I'm learning such a lot from social media (though I realise it may not all be correct, know what I mean fellow conspiracy theorists?).
For example every full moon, apparently has a name, so last night's February's full moon is known as the Snow Moon*. According to a U.S. almanac web-site this tradition dates back to the native American tribes during colonial times, but has an element of prediction:
"And the Native Americans were right. On average, February is the USA's snowiest month, according to data from the National Weather Service."
N.B. I am living in central England, and the names of the full moons have graduated across the Pond. Last night this coincided with a penumbral eclipse. However both were invisible as flat grey clouds blanketed the skies.
And, sure enough Cochise, snow was falling gently this morning when I raised my head. First thoughts were about whether the football game at Bolton (I am a long-standing Walsall fan) would still be on and what travel arrangements did we need to make?
But then logic and wonder (not usual bed fellows) took over. Stock up the bird feeders. Spend a calming few minutes watching from the back bedroom window. Grateful visitors swarm in: chaffinch, goldfinch, long tailed tits, a single robin, blackbirds that spend more time squabbling than eating, a pair of crows, their would be neighbours the magpies, a house sparrow looking brightly coloured against the snow.
A whole blizzard of starlings drop in; their ability to feed from every single piece of equipment becoming obvious. There is a wood peckerish quality about these garrulous birds: their bills, their ability grasp a vertical surface, the fact that they will nest in tree trunk holes. Blue tits, the same pair I speculate that are working on the entrance to the new nest box high in the lime tree have ceased their courting and visit the table: eager and greedy.
Over the eight foot fence a cat that has been sneakily sheltering beneath a no-longer-used trampoline, slinks away between broken fence panels.
There is a sense of déjà vu here. Facebook has reminded me of a photo I took in 2013. Scarily similar.
The crow versus magpie saga continues as I watch their WWF tag-wrestler-style behaviour on the lawn. The smaller magpies trying to exert some kind of dominance repeatedly fail to do so. The crows are wary, but not even slightly intimidated. This magpie pair have conceded the existing nest site to their larger cousins, but still visit it regularly, while also starting to build –from scratch – a new platform nest. On two separate occasions the crows have popped in and, literally picked it apart and dropped it from a great height. It is, after all, no more than thirty feet from their own nest-to-be. The mags cannot take the hint and, to date, have re-built it twice.
I am reminded of the Spy v Spy cartoons that appeared in Mad magazine.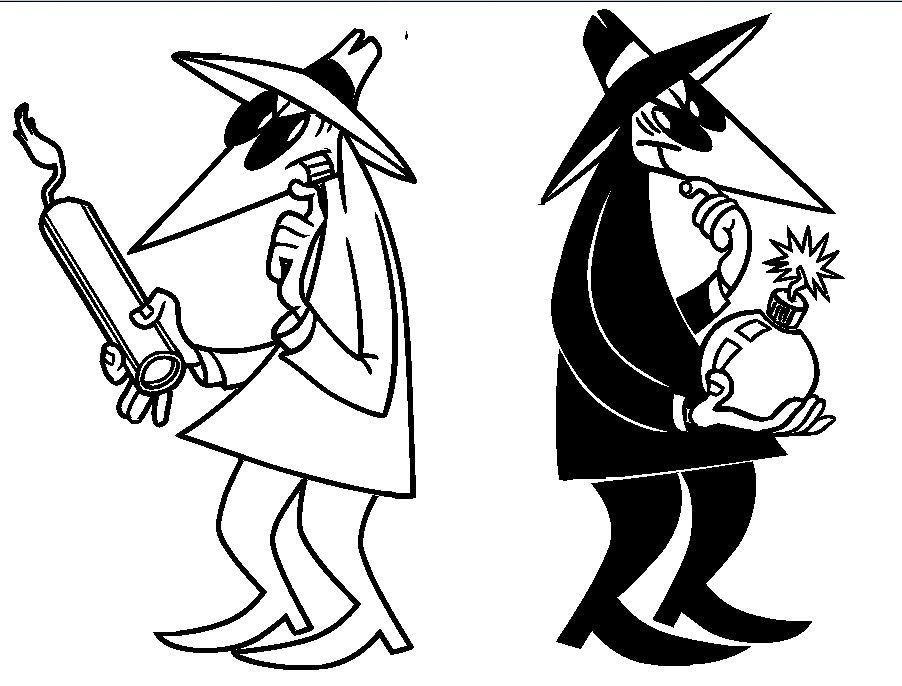 But, doesn't this behaviour also mirror the "boundary dispute" in progress up at the allotment. No malice between ourselves and the house owner, but dispute between official parties (of course it is not quite so simple) that is going on and on. Most recently the house owner has removed his front hedge and intentionally or not the contractors doing the job have also taken out some of the hedge between the allotments and the Wolverhampton Road. Again we have a case of watch-this space as arbitration/discussion/resolution are at least as far away as they were before.
I am brought to mind of a "small talk" conversation with one of The stewards at Walsall Football Club last Saturday. We were discussing the weather (usual topic for English people – we have so much of it after all – and I said we needed a sustained cold spell to get rid of snails and slugs. Wise chap, humouring ing the paying customer, nodded sagely. Is today the beginning of a cold snap?
By the time I am setting out for the traffic marmalade that passes for roads between here and Bolton, the snow has turned to rain.
*Other web sites are available and one such talks of the green comet which should, cloud permitting be visible from earth for a couple of nights. Green Comet? My mind is racing; surely a DC super hero? Whose alter-ego is a mild mannered allotmenteer?
Super-powers ?
Hmmm …
Any suggestions ?